THIS INDIAN CITY IS NOW HOME TO THE COUNTRY'S FIRST FLY-DINING RESTAURANT
Home >
News Shots >
India
By

Behindwoods News Bureau

|

Oct 23, 2018 09:01 PM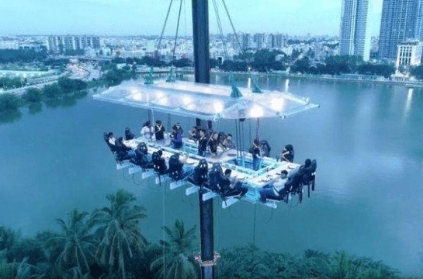 It's the 21st Century and the world's fascination with all things airborne has just reached new heights. Now, India's IT hub Bengaluru has opened the country's first flying restaurant.

With the best view of the city, the restaurant is located near the Nagawara Lake in Hebbal. The dining experience is in itself extraordinary. The customer will be taken up in air on a crane, after which they can enjoy a gorgeous view of the city and the dishes the restaurant has to offer.

The elevated platform can accommodate 22 guests, including the chef, waiter, and an entertainer in the middle of the platform. Not just that, the platform rotates 360 degrees for a complete view of the picturesque view of the city.

Pregnant women and children below 13 years of age are not allowed to be a part of this experience. Customers are not allowed to carry bags but they can carry phones and if they drop anything there is a safety area below it. The platform can come down if anybody wants to use a restroom.

There are two dining options - first is a half-hour mocktail session that starts from 5 PM and another is the dinner session that starts from 7 PM. The cost for two is Rs 8,000. The mocktail session costs Rs 3,999 per head and the dinner session costs Rs 6,999 per head.

So, in case you've had enough of on-the-ground restaurants, you might want to give this a try!
Tags :
#BENGALURU #FLYING RESTAURANT #DINING AND CUISINE #VIRAL #BUZZ
next