THIS INDIAN CITY IS THE FIRST TO GET A CRYPTOCURRENCY ATM IN THE COUNTRY
Home >
News Shots >
India
By

Behindwoods News Bureau

|

Oct 18, 2018 01:18 PM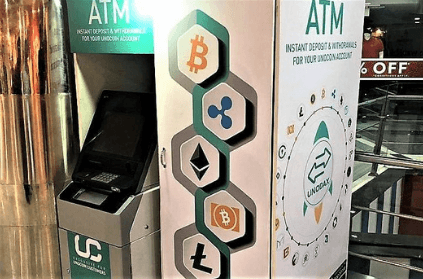 While not much is known about cryptocurrency in India, the idea is definitely gaining traction with every passing day. Despite being cracked down upon by the Reserve Bank of India (RBI), virtual currency exchange Unocoin has installed a currency deposit and dispensing ATM at the Kemp Fort Mall in Bengaluru.

According to a report in The News Minute, the ATM allows customers to deposit and withdraw a minimum amount of Rs. 1,000, and complete transactions in cryptocurrencies like Bitcoin, Ethereum and others.

This is the first of its kind ATM in India, and it has played a clever move by circumventing RBI regulations. In India, there is no outright ban on cryptocurrencies. You just can't use them to purchase anything. This ATM makes a more indirect crypto purchase possible, by converting coins to Indian currency right in front of the user/customer, without any links with the Indian banking system.

In order to deposit money into the ATM, KYC compliant customers have to enter their User ID and the OTP that they receive as SMS on their registered mobile number. The user would then confirm his account details and deposit the funds into the Kiosk machine. Their Unocoin account will be updated with the deposited funds immediately. And these funds can be used to buy Bitcoin (BTC) or Ethereum (ETH), or on Unodax to place BID orders on 30 different crypto assets.

At present, the ATM is not operational yet. Unicon plans to set up similar ATMs in Mumbai and Delhi in the near future.

*Originally published in The News Minute*
next