FARMER BUYS CAR WORTH ₹1.1 CRORE; CELEBRATES BY DISTRIBUTING SWEETS WORTH ₹7,000/KG
Home >
News Shots >
India
By

Behindwoods News Bureau

|

Sep 17, 2018 11:11 AM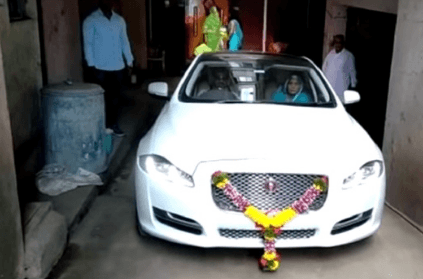 It's not common for farmers to buy themselves a luxury vehicle. But then there are exceptions in all cases.

In a heart-warming story being reported from Pune, a farmer bought himself a Jaguar XJ saloon worth Rs. 1.1 crore. Suresh Pokale, a farmer in the Dhayari village in the outskirts of Pune had no inhibitions spending money on his dream car. While getting a car worth a huge sum is an accomplishment for a farmer, what was even special was the celebration.

While Pokale bought a car that would have cost him Rs.1.30 crore (on-road price), he celebrated the ocassion by distributing sweets that cost him Rs. 7,000 per kg. Pokale distributed a custom-made gold leaf wrapped sweet that took three days for the sweet shop to make.

He distributed 3 kgs among neighbours and the entire village, spending Rs. 21,000 on sweets alone. More than his luxury vehicle, Pokale will now be remembered for his celebration.

Speaking to Policenama, Suresh's son, Deepak Pokale, said, "We recently bought a new Jaguar luxury car and we wanted to celebrate the joy in a royal way. We insisted that it should match the level of luxury and royal look of the car. So, we decided to make pedha with a gold covering on it."
Tags :
#MONEY #FARMER #JAGUAR XJ L
next