MEET THE CUDDLIEST ARTIST IN TOWN; THE PRICE OF HER PAINTINGS WILL SHOCK YOU
Home >
News Shots >
World
By

Behindwoods News Bureau

|

Aug 30, 2018 05:44 PM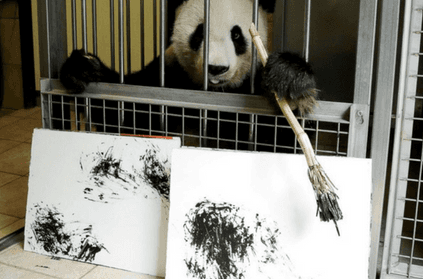 For the uninitiated, art is one of the most loved forms of expression around the globe. People love visiting art galleries and museums to observe and buy them. But in order to get your hands to some of the latest hip paintings in town, you ought to visit the zoo.

Yes, you read that right

According to reports, the Vienna zoo is luring visitors with their new attraction: a painting panda. Yang Yang, a female panda, has learnt to draw monochromatic art on canvas using bamboo brushes. The 'painting panda' has become an instant hit among people, with zoo officials putting up her paintings on sale.

Watch the artist in action
The Vienna Zoo is selling paintings made by 18-year-old panda for $560 each, raising funds to produce a picture book https://t.co/nOLA4cR0MQ via @ReutersTV pic.twitter.com/utev0v6iEi

— Reuters Top News (@Reuters) August 27, 2018
Her paintings are now being sold online for 490 Euros (Rs. 40,500). The money gathered from the paintings will supposedly be used to buy a picture book about the Austrian zoo's pandas.

While some seemed the enjoy the ball of fluff demonstrate her skills, others lashed out at the zoo officials for caging the animal.
in a cage? a panda in a cage? u gotta be kidding me? and it's not its painting u sell with gimmick.. it's an animal's scribble u direct and manipulate to look like the poor panda can paint..

— Cinda Mahendra Putra (@kecapnomer1) August 27, 2018
It should not be in a cage!
Let's lock them up and see how they like it, I will give them a pad and some paint see if I can sell there art!

— xKitty (@xKittyCam) August 28, 2018
How sad to see this beautiful panda behind bars - why do we try to humanise animals by pretending their "artwork" is something of value. Can't we just let them be free in their own environment - what a disgrace humans are 💀#banzoos @righttosay3 @AnimalAbusers @spiritscrushed

— Colleen J 🐾 (@Robbieally) August 28, 2018
That precious sweet baby imprisoned inside a tiny metal cage and fed through the bars! Despicable

— neonmoon (@neonmoon20) August 27, 2018
Tags :
#MONEY #ART #ZOO #PANDA #PAINTING
next