WOMAN STRIPS INSIDE LIFT AFTER HEATED ARGUMENT WITH COPS; VIDEO GOES VIRAL
Home >
News Shots >
India
By

Behindwoods News Bureau

|

Oct 29, 2018 11:28 AM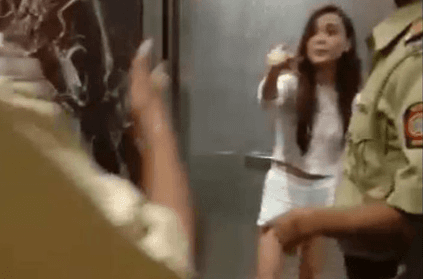 An aspiring model and content writer from Mumbai allegedly stripped inside the lift of a high-rise building in order to stop police from forcing her to go with them to the police station to file a complaint. Police officials arrived at the building after the woman had an altercation with the building's security guard.

The woman posted a tweet, saying that the cops had insisted that she should accompany them to the police station at 3 AM, despite no female cop being present.

According to a report in Times of India, the woman had a fight with the guard after he refused to run an errand for her at 1 AM. She then dialed the police emergency number and said that the guard had misbehaved with her. The guard, on the other hand, claimed that the woman assaulted him.

In a video that has now gone viral, cops can be seen asking the woman to accompany them to the police station. But she refuses as there is no woman cop present and that it is way past midnight. The woman can be seen getting back into the elevator and telling the police to speak to her lawyer. The woman begins to yell after police and the guards refuse to let her go.

In a fit of rage, the woman was then spotted undressing to get the police and bystanders to leave the spot. Clips surfaced of the woman assaulting another guard.
After she posted a tweet of the incident, police advised her to go to the station and file a formal complaint. She has now recorded her statement.
@MeTooMVMT@VijayaRahatkar @MumbaiPolice pic.twitter.com/jj59GEstrs

— Megha Sharma (@MeghaSh77484473) October 26, 2018
Women cannot be called to the police station for interrogation under Section 160 of CrPC. The law provides women the right to not be physically present at the station for interrogation. The police can interrogate a woman at her residence, in the presence of a woman constable and family members or friends. Further, according to an SC ruling, a woman cannot be arrested after sunset and before sunrise.
next