WATCH | JUDGE CHASES DOWN INMATES WHO FLED FROM COURTROOM
Home >
News Shots >
World
By

Behindwoods News Bureau

|

Oct 26, 2018 01:35 PM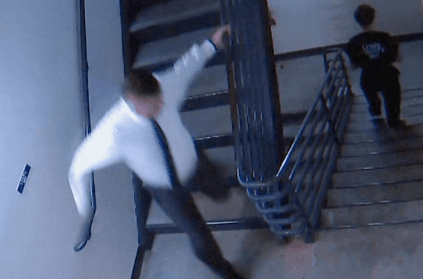 Judges are expected to be very formal and diplomatic when it comes to courtrooms. They're supposed to uphold Constitutional values and deliver judgments. But a judge in Washington, US turned out to be physical about this job.

According to a report in Daily Chronicle, Judge RW Buzzard was presiding over cases of two inmates. Before the court proceedings could go any further, things took a different turn.

CCTV footage from inside the court premises reveals how two handcuffed prisoners ran from the courtroom, in an attempt to escape. While everyone was processing what just happened, Judge Buzzard removed his robes, and went after the two inmates.

Cameras situated in the staircase shows the 2 inmates running down, with Buzzard right behind them. The judge closed in on one of the inmates as he was about to exit the premises. The other inmate was apprehended a few blocks away from the courthouse.

Both prisoners have been charged with second-degree escape.
Tags :
#FACEBOOK #JUDGE #COURTROOM #PRISONERS #ESCAPE
next