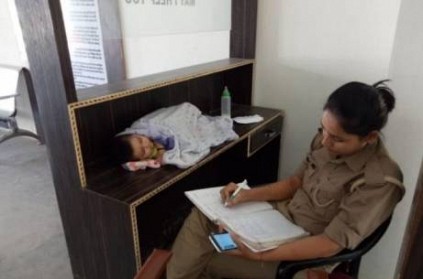 With a recent photo of a female police going viral, things could get convenient for the women cops out there.
For constable and mother Archana Jayant it was just an ordinary day at work. On Sunday, a photo of her working and watching over her baby went viral on Twitter. Within hours, Twitter users showered Archana with praises and urged her higher officials to provide female police officers with better facilities.
The photo was posted by senior police officer Rahul Srivastav along with the caption, "Meet 'MotherCop' Archana posted at Kotwali, Jhansi for whom the duties of motherhood and the department go side by side! She deserves a salute!"
Reportedly, Archana was taking care of her six-month-old baby, Anika while she worked at the police station. It is reported that Archana was rewarded with Rs 1,000 for her dedication. Om Prakash Singh, the Director General of Police in Uttar Pradesh called Archana a "quintessential 21st-century woman" and assured that he had a talk with her.
Singh reportedly said, "Had a conversation with Archana this morning and ordered her transfer to Agra, closer home! The little one brightening Jhansi Police Station has inspired us to explore crèche options at every police line."
Meet 'MotherCop' Archana posted at kotwali jhansi for whom the duties of motherhood & the department go side by side !
She deserves a Salute !! pic.twitter.com/oWioMNAJub

— RAHUL SRIVASTAV (@upcoprahul) October 27, 2018
next