COMMUTERS COME TOGETHER TO GIVE BUS CONDUCTOR A FAREWELL THAT HE'LL REMEMBER FOR A LIFETIME
Home >
News Shots >
India
By

Behindwoods News Bureau

|

Oct 31, 2018 10:56 AM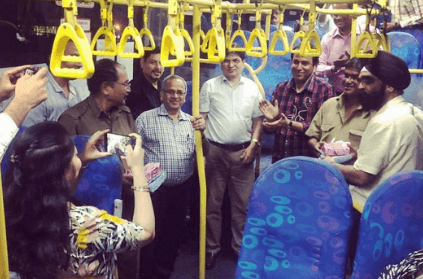 It doesn't happen often that commuters come together to give a bus conductor a standing ovation for his farewell.

Amidst all the hustle and bustle of everyday life, people travelling in one of the local buses in Mumbai, made sure that a conductor who served them for years, got the farewell he deserved. Pictures of the emotional farewell have now gone viral on Reddit and other social media platforms.

"My father has been taking the same bus to work and back for the last 5 years. Today, all the regular commuters gave a farewell to the bus conductor on his last working day," one of the users wrote.

"You make friends with your conductors very fast when you have an 1.5 hour one-way commute every day. They always have change for you, tell you about the next available seat if you don't get your usual seat. Ask about you if you don't turn up for a day or two. And they never ever fell ill. It's a thankless job but they do it day in and day out. I freakin love that these commuters did this for their conductor. Much love," wrote another user.
Heartwarming indeed!
Tags :
#MUMBAI #BUS CONDUCTOR #FAREWELL #REDDIT #BUZZ #VIRAL #TRENDING
next