TRADITION VS GENDER JUSTICE | SABARIMALA GATES OPEN; GOONS ASSAULT WOMEN, BLOCK ENTRY INTO TEMPLE
Home >
News Shots >
India
By

Behindwoods News Bureau

|

Oct 17, 2018 05:16 PM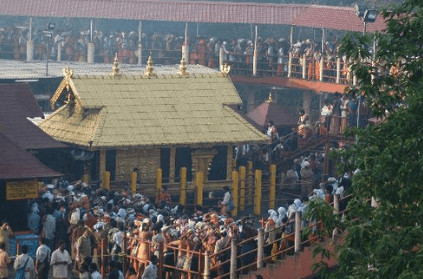 History was supposed to be made today as the gates of the sacred Lord Ayyappa Temple were to be opened for all women. While the temple gates are now open, no women aged between 10-50 years of age entered the shrine, courtesy the violent protestors and goons.

The situation in Sabarimala base camp Nilakkal, Pamba and other surrounding areas continues to remain tense from yesterday. Protestors took to the streets against women entering the temple. The protestors stopped vehicles of women, asking them to get off or turn back. Things started to get violent when journalists were attacked.

Women journalists from major media organisations including The News Minute, CNN-News18 and NDTV were assaulted, heckled and intimated by the unruly mob. Media personnel including their vehicles have been attacked, and their equipments broken.

According to ANI, over 50 people, including former Travancore Devaswom Board president Prayar Gopalakrishnan, have been taken into custody in Nilakkal and Pamba. After much hooliganism, the police stepped into action, resorting to lathicharge. A stand-off between police and the unruly mob ensued.
#Kerala:Protesters block and attack a woman journalist's car in Pathanamthitta #SabarimalaTemple pic.twitter.com/7TfRf2YIMi

— ANI (@ANI) October 17, 2018
#WATCH: Police lathi-charge and pelt stones at the protesters gathered at Nilakkal base camp, in Kerala. #SabarimalaTemple pic.twitter.com/DMC1ePz0l2

— ANI (@ANI) October 17, 2018
As hundreds of devotees enter the sacred temple, women between 10-50 years of age have not entered the shrine due to fear of being attacked. The law and order machinery in Kerala has been heavily criticised for not taking preventive measures.
It will be interesting to note if women are allowed entry into the temple over the next couple of days.
next