UNION MINISTER'S BIZARRE STATEMENT ON MENSTRUATING WOMEN AT SABARIMALA DRAWS FLAK
Home >
News Shots >
India
By

Behindwoods News Bureau

|

Oct 24, 2018 11:06 AM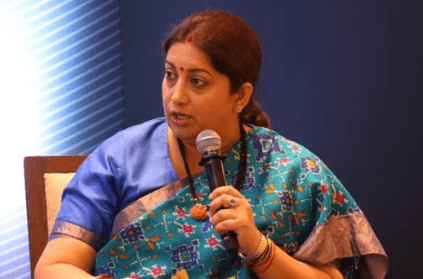 The controversy over women of all ages entering the revered Sabarimala Temple is far from over. The latest to join in the debate is Union Textile Minister Smriti Irani. Irani has invited the wrath of various people after she made a supposedly insensitive remark over the issue.

The Union Minister, while addressing the issue and the Supreme Court verdict, said that everyone has the right to pray, but not to desecrate.

"I am nobody to comment on the Supreme Court verdict but I believe I have the right to pray, but not the right to desecrate," Irani said at an event in Mumbai.

"Would you take sanitary napkins steeped in menstrual blood and walk into a friend's home? You could not. And would you think it is respectable to do the same thing when you are walking into the house of God? So that is the difference," said the minister.
#WATCH Union Minister Smriti Irani says," I have right to pray,but no right to desecrate. I am nobody to speak on SC verdict as I'm a serving cabinet minster. Would you take sanitary napkins seeped in menstrual blood into a friend's home? No.Why take them into house of God?" pic.twitter.com/Fj1um4HGFk

— ANI (@ANI) October 23, 2018
Irani's statement did not go down well with the people, and users on Twitter were quick to slam her. Here are some reactions
I have visited friend 's house while menstruating. I go travelling while menstruating. I do Yoga while menstruating. I work in office while menstruating. I shop while menstruating. I cook in my kitchen menstruating. Yet, nobody is offended. Not even the GODS! @smritiirani

— Ruchi Pradhan (@RuchiLee) October 23, 2018
Oh please!we thought you were more intelligent than that.Women can go to every temple in the country with "menstrual blood" accept #SabarimalaTemple.In any case SupremeCourtJudgement is respecting constitutional guarantee of inelinable right to equality.#ReligiousPatriarchy.

— Ranjana Kumari (@ranjanakumari) October 23, 2018
Using "desecrate" for a perfectly normal biological function in a human body is a Loud Testimony of Illiteracy that envelopes the entire Modi Cabinet.

— Ajeet Singh (@ajeetsin) October 23, 2018
Look at her mentality and she was Education Minister of our Country...And people ask why India isn't growing the way it should....

— sid (@sidd56) October 23, 2018
Is she living in an era of 100 years old period. What a ridiculous statement.

— SanjeevK (@Sanj_Ku) October 23, 2018
next