2 WOMEN STOPPED 500M SHORT OF SABARIMALA; RETURN AFTER HEAD PRIEST THREATENS TO SHUT TEMPLE
Home >
News Shots >
India
By

Behindwoods News Bureau

|

Oct 19, 2018 11:49 AM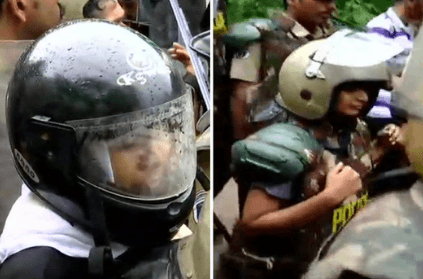 The controversy over women of all ages entering the Sabarimala Temple is far from over. In what could have been a historic moment, two women, a reporter and an activist marched towards the temple, with 300 policemen in riot gear escorting them through the way. However, after the head priest of the temple threatened to shut down the rituals, the women decided to head back.

The women were just 500 metres away from the 18 steps - that lead to the sanctum sanctorum of the famous shrine - where no woman aged between 10 and 50 years has been allowed for centuries.

Dozens of priests of the temple decided to sit on these 18 steps, chanting and clapping, apparently to stop the women if they managed to make it through the last half kilometre.

"I believe I've come here to enforce the Supreme Court order. Those women have the right to visit the temple," said S Sreejith, the Inspector General of Police leading the police escort with the women. "I am also an Ayyappa devotee," he told protesting devotees.

The historic mission seemed to get progressively more challenging as the minister in charge of the Devaswom Board, which runs the temple, described the women as activists -- not devotees.

Kavitha Jakkal, a journalist with Mojo TV from Hyderabad started the trek in complete riot action gear, accompanied by policemen. The other woman, donned in black clothes and carrying the traditional 'irumudikkettu', walked separately. Her house in Kochi was vandalised by the protesting devotees.

After decided to turn back, the two women will now be escorted safely back to their homes.
next