RAJINIKANTH PLEADS STATE GOVT FOR PLACE IN MARINA FOR KALAIGNAR
Home >
News Shots >
Tamil Nadu
By

Behindwoods News Bureau

|

Aug 07, 2018 10:13 PM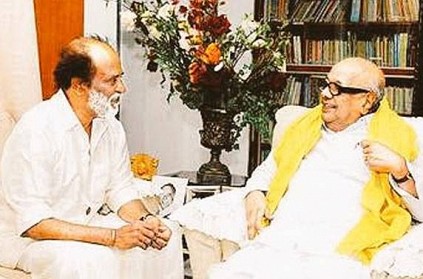 Actor-turned-politician Rajinikanth in his latest tweet, has appealed to the state government, saying that only Marina would be a befitting place for Kalaignar to be put to rest.

DMK has been fighting tooth and nail for a memorial in Marina for their beloved leader after Tamil Nadu government turned down the appeal citing legal issues.

Many DMK cadres have joined in the chorus for Kalaignar to get a final resting place in Marina.

மதிப்பிற்குரிய அமரர் கலைஞர் அவர்களுக்கு, அண்ணா சமாதி அருகே அடக்கம் செய்ய, தமிழக அரசு எல்லா முயற்சிகளையும் எடுக்க வேண்டும் என்று தாழ்மையுடன் கேட்டுக்கொள்கிறேன். அது தான், நாம் அந்த மாமனிதருக்கு கொடுக்கும் தகுந்த மரியாதை

— Rajinikanth (@rajinikanth) August 7, 2018
next