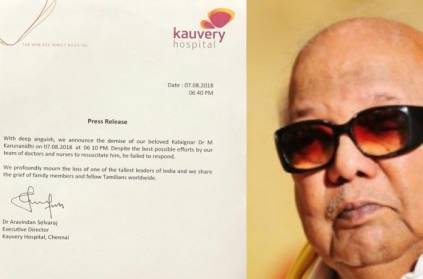 DMK patriarch Dr M Karunanidhi passed away on Tuesday at 6.10 pm at the Kauvery Hospital. The five-time CM was admitted at the hospital on July 26 following fever due to urinary tract infection. Despite him responding well to the treatment at the beginning, his health condition declined resulting in his demise.
During his overall stay at the Kauvery Hospital, seven medical bulletins had been released so far including the one released two hours ago. Following the announcement of the DMK veteran's death, the hospital released its eighth and final medical bulletin.
The release stated, "With deep anguish, we announce the demise of our beloved Kalaignar Dr M Karunanidhi on 07.08.2018 at 06.10 PM. Despite our best possible efforts by our team of doctors and nurses to resuscitate him, he failed to respond."
It further said, "We profoundly mourn the loss of one of the tallest leaders of India and we share the grief of family members and fellow Tamilians worldwide." The release was signed by the Executive Director of Kauvery Hospital, Dr Aravindan Selvaraj.
next