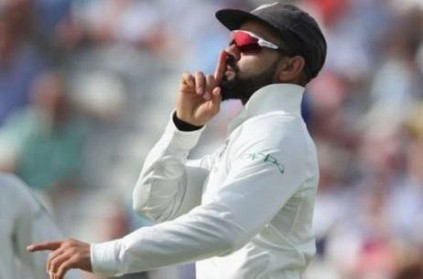 The first test between India and England commenced to a great start for the former on Wednesday in Birmingham. England won the toss and chose to bat first.
In 88 overs, England scored 285 for 9. Even though England was not bowled out yesterday, it was still a poor performance by the middle order. Captain Joe Root was run out by Indian skipper Virat Kohli, which was itself a sensational moment.
Kohli after taking out Root with a direct hit celebrated similarly to the England Captain's act after winning the recent ODI series against India. Kohli was seen blowing a kiss followed by a mic drop and kept his finger on his lips in a silencing manner.
Kohli's taunt brought in mixed reactions from people. Fans took to Twitter to express their thoughts. Some felt that it was okay as the whole thing was started by Joe Root. Others thought that Kohli's act was a personal strike.
August 1, 2018
next