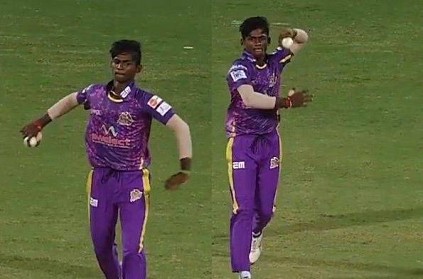 The ongoing Tamil Nadu Premier League unearthed a unique talent for India in the form of Mokit Hariharan. The bowler who is playing for VB Kanchi Veerans was seen bowling a spell of 4-0-32-0 during the match against Dindigul Dragons on Sunday.
Despite Kanchi's loss against Dindigul, Hariharan still ended up stealing the limelight. During the game, Hariharan showed ambidextrous skills while bowling. The player shifted hands with which he bowled depending on the batsman. He was seen bowling a left-arm spin for a right-handed batsman and changed his arm for a left-handed batsman.
Such skill has been seen only once before. Akshay Karnewar, who played for Vidarbha in domestic cricket was the first-ever bowler in India with ambidextrous skills.
Yes. Believe what you are seeing. @sprite_india refreshing moment of the day. #TNPL2018 #NammaOoruNammaGethu pic.twitter.com/4RrgSBsMXW

— TNPL (@TNPremierLeague) July 22, 2018
next