WATCH | MAN BUTCHERED ON BUSY STREET; ONLOOKERS STAND MUTE & RECORD VIDEOS
Home >
News Shots >
India
By

Behindwoods News Bureau

|

Nov 29, 2018 11:17 AM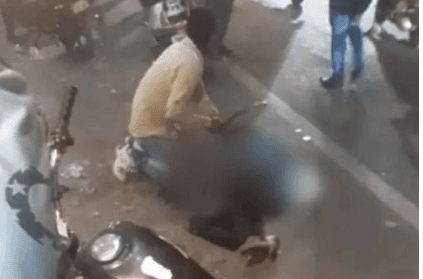 In a gruesome murder caught on camera, an auto driver stabbed another auto driver to death in Hyderabad. The heinous crime happened in a busy street and even in presence of a couple of cops.

Several gory videos of the crime have surfaced online and show horrified onlookers watching and filming the murder. One of the traffic cops is seen stopping him, but retreats soon after. Bikers, autorickshaws and some pedestrians also paused for a moment but no one mustered the courage to intervene.

In another video of the same incident, the man, with his clothes soaked in blood, can be seen sitting next to the dead body, ranting that he deserved to be killed.

The daring murder took place near Madina crossroads in the old city. Passers-by stopped and made videos of the brutal attack but no one dared to step forward to stop the brutal murder.

The murderer Abdul Khaja, owns an auto rickshaw and rents them out for a living. Senior police officer Amber Kishor said that he had a fight with an auto driver Shakeer Quereshi. Following this, Khaja stabbed Quereshi multiple times on the neck and he died on the spot.

The accused was has been taken into custody and a case has been registered by Mir Chowk Police under Section 302 of the Indian Penal Code.
*With inputs from NDTV & Times of India*
next