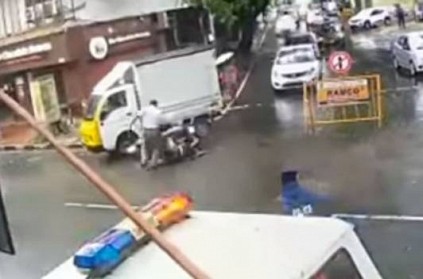 A constable from Chennai had a close call after pushed off his bike by a traffic inspector. The chilling incident was even caught on a CCTV camera, the video of which is going viral on social media.
The incident reportedly took place at Alwarpet on Wednesday. The traffic inspector, identified as Ravi Chandran wanted to catch his subordinate Dharman. In his eagerness, he jumped on to the middle of the road and tried to stop Dharman by pushing him with his hand.
However, Dharman lost his balance and his bike skid. The constable narrowly missed an approaching mini truck. Dharman suffered injuries to his legs, hands and even a minor fracture in a finger.
Reports suggest that Ravi Chandran had not granted Dharman leave to attend his mother's last rites. Dharman was also reportedly drunk while riding his bike. Accepting that what Dharman did was wrong, the constable's wife pointed out the dangerous situation her husband was put at and filed a complaint against the inspector who pushed him down. However, an action is yet to be taken.
next