WATCH | CYCLONE 'GAJA' VICTIM SLAPPED BY COP FOR PROTESTING OUTSIDE COLLECTOR'S OFFICE
Home >
News Shots >
Tamil Nadu
By

Behindwoods News Bureau

|

Nov 27, 2018 12:44 PM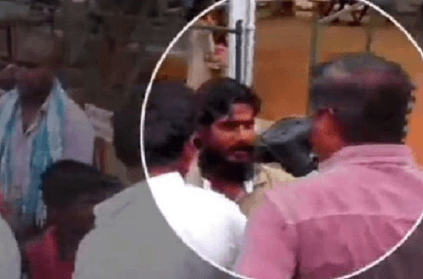 The cyclonic storm 'Gaja' has wreaked havoc in multiple areas across Tamil Nadu. Hundreds and thousands have been affected, and rendered homeless due to the impact. Even as relief work is on, a family that had gone to the Collector's office was humiliated and physically assaulted. The family had gone there to seek the help of the government to rebuild their house.

The policemen slapped the man in front of his family as the victims demanded help. The official slapped the family member who lost two of his relatives during cyclone Gaja. The members of the family were protesting outside the Karur collector's office for not getting any relief even after they lost two members of their family to Cyclone Gaja.

According to Times Now, quoting certain reports, the family members were ready to immolate themselves with kerosene. While they were seeking remedy, the cops blocked them as they attempted to stage a protest. The cops further snatched the kerosene and slapped the man who was holding it.

Click here to watch the video

A woman who went to the collector's office with her grievance was also denied any help. Later addressing the media, she expressed her plight after her husband passed away due to the cyclone after a tree fell on their house.

"A tree fell on our house. So my husband went to check outside. But a branch fell on him as well. I called 108. They said they were coming. They said the road is blocked due to a fallen tree, so they couldn't come. The government should do something looking at my son's plight and my plight. Otherwise, you can kill us too," she said.
*Originally published in Times Now*
next