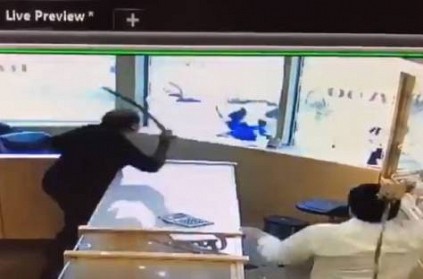 An Indian-origin jewellery shop employee defended his shop from robbers by wielding a sword. The bizarre incident took place at Ashok Jewellers in Mississauga, Toronto.
Reportedly, an employee and a customer were standing inside the shop when four masked men broke the store window with a hammer. One of the men even held a gun. However, the shop owner had no intentions of staying calm.
The shop owner reportedly wielded a sword and brandished it against the men. The incident was caught on a CCTV camera. From the video, the employee could be seen waving the sword in the air, beating furniture with it and threatening the intruders.
Stunning video.

Owners of Ashok Jewellers in Mississauga sent me this surveillance footage — three people using swords to fend off a daylight robbery attempt on Wednesday. @globalnewsto pic.twitter.com/UjDb1kn2w7

— Kamil Karamali (@KamilKaramali) November 22, 2018
next