MAN USES SNAKES TO THREATEN & RAPE WOMAN; DIES AFTER ONE OF THEM BITES HIM
Home >
News Shots >
World
By

Behindwoods News Bureau

|

Nov 29, 2018 10:35 AM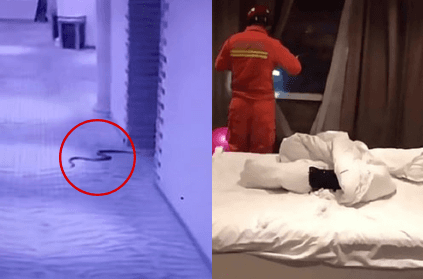 If you don't believe in karma, this story is proof!

A man in China has allegedly died after being bitten by a venomous snake in the bath at a hotel room. A woman, who was also inside the hotel room, claimed that the man used reptiles to threaten her and force her to have sex with him.

The man was said to be bitten while playing with one of the snakes in the bathtub after the alleged sexual intercourse.

According to reports in Chinese media, firefighters were alerted by an unspecified source after snakes had been found on the first floor of the unnamed hotel. Firefighters who rushed to the scene caught one snake inside the room where the victim died and another outside a nearby vacant room.

One of the reptiles was said to be a many-banded krait, one of the deadliest snakes in the world commonly seen in south-east Asia and southern China. They also found a sack in the victim's room which was believed to be used by the man to carry the snakes into the hotel.

They said that the man had no signs of life when they had arrived. And that was confirmed by the paramedics who later arrived at the scene. The reality of what went down inside the hotel room came to light when the police released a statement based on what the woman had claimed.

According to the statement, the man brought her into the hotel at 5 PM and allegedly raped her. And he did so by threatening her with the 3 snakes that he had along with him. However, later that night, Fan was bitten by one of the snakes and instead of seeking medical assistance or calling the police, he went to bed and died in his sleep.

The post-mortem report of the man did confirm that he died of a snake bite. However, the woman's claims of being raped by him is still under investigation.
Tags :
#RAPE #SNAKEBITE #CHINA
next