STRAY DOG BRUTALLY GANG-RAPED BY FOUR MEN, LEFT SERIOUSLY INJURED
Home >
News Shots >
India
By

Behindwoods News Bureau

|

Nov 20, 2018 05:03 PM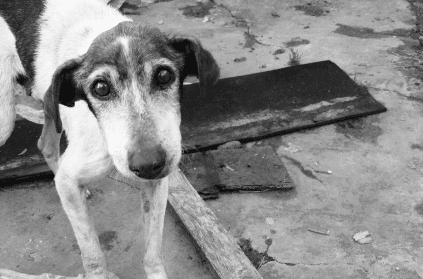 Acts of bestiality have been on a steep rise across different areas in the country. In yet another horrendous tale, a street dog was brutally gang-raped by four men in Mumbai.

The shocking incident came to light when Sudha Fernandez, a local resident who regularly feeds the dogs in the area, stated that she spotted the dog. According to Fernandes, her husband spotted the dog and asked her to feed it. But when Fernandes went near the dog with food it responded in fear and tried to move away.

"It was then I saw that its penis was badly injured and it was bleeding a lot. Even when the dog was trying to change its position while lying down, it was in great pain," Fernandes said.

Fernades recalled how she was told by a local auto-driver that he saw four men, allegedly under the influence of drugs, sexually abusing the dog by tying his legs and gagging its mouth. The animal welfare group, which is currently treating the injured dog said the poor creature is in severe trauma and gets scared when someone tries to get near it.

The veterinarian treating the dog said that its private parts were mutilated in such a way that it could not happen unless someone forcibly harmed it. With increasing acts of bestiality, animals welfare groups have been demanding stringent punishment for offenders.
*Originally published in India Times*
next