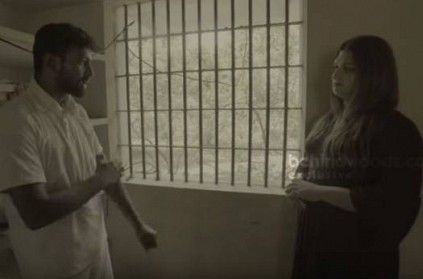 'Unmaking of a Monster', directed by journalist Apsara Reddy, relays the tales of prisoners in the infamous Puzhal Prison. The 46-minute documentary released exclusively on Behindwoods Air on Tuesday.
'Unmaking of a Monster' portrayed the Puzhal Prison in the most candid way possible. It attempted to unravel the complex picture behind heinous crimes and capital punishment. The documentary also shed light on the daily lives of over 2,000 prisoners in the Puzhal prison and their mindsets.
Amongst the many prisoners featured in the documentary was 24-year-old Dhashvanth, who was sentenced to death for the rape and murder of seven-year-old Hasini. In the documentary, Dhashvanth could be seen in a cool and composed manner.
As Dhashvanth engages in a conversation with Apsara Reddy, he can be seen in a constant denial over the accusations made against him. "I will not spare those who got me caught and framed me. I do not know who they are but I am searching for them," says Dhashvanth boldly.
Dhashvanth seems to have a justification for all the accusations made against him. "How did they find sperm in her panties when the body was burnt?" questions the 24-year-old convict. He also states that he was on the run so as to escape from getting beaten up by the police.
The conflict between Dhashvant's claims and the proof against him is very evident. Is there any truth in his words and if there is, then how did a completely innocent man find himself in jail? If Dhashvanth is, in fact, lying with such fierce determination, then is there any hope for reformation for him or any of the other prisoners?
'Unmaking of a Monster' is an attempt to find out if justice transforms minds. Can convicts, including murderers, rapists and thieves tomorrow live like regular citizens? Is prison-life reformatory? Watch the documentary here to find out an answer:
next