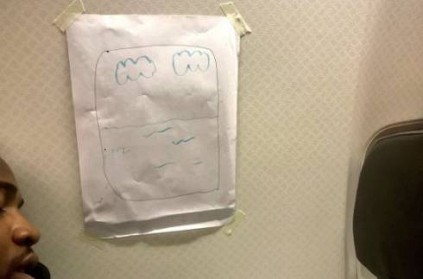 In a hilarious incident on a flight in Japan, a nagging passenger was shut down by a flight attendant in the best way possible.
Reportedly, the passenger wanted to move to another row to sit next to the window. The man had booked a supposed window seat but the seat, however, was not aligned with a window. The man pestered the flight attendant to change his seat.
The attendant could only tolerate a little. She came up with a hilarious yet brilliant solution for the passenger. Instead of changing his seat, she drew a window on a paper and stuck it next to him. The attendant was considerate enough to even draw the window with a view of the sea and clouds.
A photo of the funny ordeal was shared on Twitter by a Japanese user. The picture of the window after being shared has gone viral with over 15,000 'likes' and 8,000 'retweets'. See for it yourself:
窓が無い座席だったので隣のお兄さんがCAさんにクレームをつけたら、上空の景色書いて貼り付けてくれたwww pic.twitter.com/FJv6kJnwnD

— こぉ↑すけ@しおりおし (@kooo_TmS_suke) November 5, 2018
next