FLIGHT ATTENDANT BREASTFEEDS PASSENGER'S HUNGRY BABY; INTERNET HAILS HER AS A HERO
Home >
News Shots >
World
By

Behindwoods News Bureau

|

Nov 11, 2018 05:43 PM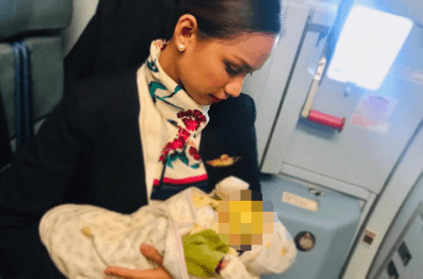 Flight attendants can become heroes too. Here is one such story of a flight attendant from Philippines, who is winning hearts on social media after she went beyond her call of duty and breastfed a passenger's baby during a flight.

The crew member recalled the entire incident of how everything on the flight was running smoothly, until she heard a baby crying. As a young mother herself, the flight attendant, Patrisha Organo, understood that something was wrong and approached the baby's mother to check.

The mother told Organo that she had ran out of formula milk. Since there was no supply on the flight, the attendant offered to breastfeed the baby herself. Organo took to Facebook to share the incident, which has now gone viral.

"I approached the mother and asked if everything's okay, I tried to tell her to feed her hungry child. Teary-eyed, she told me that she ran out of formula milk. Passengers started looking and staring at the tiny, fragile crying infant," Organo wrote in her post. "I felt a pinch in my heart."

With the help of the flight's line administrator, the two assisted the mother and her baby to a private area. With the mother's permission, Organo put the baby to her breast. "The baby started rooting, she was so hungry," Organo writes. "I saw the relief on her mother's eyes. I continued to feed the baby until she fell asleep . I escorted her back to her seat and just before I left, the mother sincerely thanked me."
Tags :
#FLIGHT #FLIGHT ATTENDANT #BREASTFEEDING #MOTHERHOOD #NURSING AND CARE #BUZZ #TRENDING
next