CHENNAIITES NAIL RAINWATER HARVESTING; COLLECT 1,00,000 LITRES IN 3 HOURS
Home >
News Shots >
Tamil Nadu
By

Behindwoods News Bureau

|

Nov 07, 2018 10:15 AM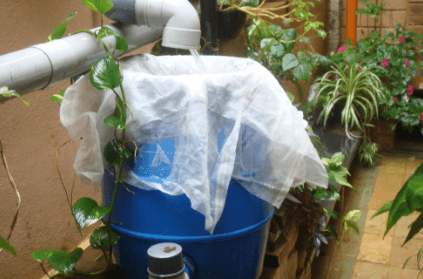 For the residents of all 56 apartments of the Sabari Terrace Complex in Sholinganallur in Chennai, it took a whole year of planning, designing and implementation for them to begin harvesting the rainwater collected from their terraces.

After routing all the accessible terrace tops for the purpose, their efforts came to fruition when the underground sump with a capacity of 1,00,000 litres in their compound filled up following the first showers that hit the city from October 29 to 31.

"Since last November, we've been setting up the rainwater harvesting structures in phases. Only last month all the four blocks were connected to the sump. In the three days cumulatively it would've rained for three hours. But that was enough to fill our sump," residents' association secretary Harsha Koda told The Times of India.

The planning was undertaken by Koda's wife, while the designing of the structure was completed under the guidance of Rain Centre. A total of ₹2.5 lakh was spent by the association, of which about ₹50,000 has already been recovered in terms of water savings since last November, shared Koda.

Residents of the locality feel that the harvesting facility has considerably reduced their dependence on Chennai Metrowater. The residents of Sabari Terrace Complex have set an example for all of us. Using such means, we can give respite to the environment, and one can also significantly save money too!

*Originally published in Times of India*
Tags :
#RAIN #RAINWATER HARVESTING #WATER CONSERVATION #BUZZ
next