'DON'T LIVE IN INDIA IF YOU LOVE BATSMEN FROM OTHER COUNTRIES': VIRAT KOHLI RESPONDS TO FAN
Home >
News Shots >
Sports
By

Behindwoods News Bureau

|

Nov 07, 2018 04:03 PM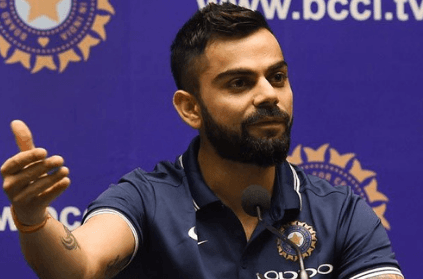 Indian skipper Virat Kohli has had a brilliant year on the field. But Kohli has just got embroiled in a fresh controversy after a video of him emerged, where he was saying that those who prefer English and Australian batsmen should not live in India.

Kohli was recording a session for his official app and while scrolling through his social media feed, came across a comment in which a certain user is criticising Kohli and calling him overrated while admiring the Australian and English batsmen.

After reading the comment, Kohli responded, "Okay, I don't think you should live in India then... you should go and live somewhere else no. Why are you living in our country and loving other countries? I don't mind you not liking me but I don't think you should live in our country and like other things. Get your priorities right."
Is #Kohli asking his non-Indian fans to leave their country and come to India🤔🤔.. Or to sort their priorities? #WTF pic.twitter.com/tRAX4QbuZI

— H (@Hramblings) November 6, 2018
Kohli's comments did not go down well with social media. People were baffled at the Indian skipper's brazen statement.
Married in a foreign country
Supports foreign countries in other sports
Plays a sport originating from a foreign country instead of playing kabaddi
Talks in a foreign language many times
Wears foreign dresses
Is he in his right mind speaking those words now?

— Naresh Khuraijam (@Kens103) November 6, 2018
So, when he's going to end his endorsements with the foreign companies. https://t.co/7Vpgauez1R

— AK (@CousinMose_) November 7, 2018
He Is a BIGOT.

— Tavinder Bindra (@TavinderB) November 7, 2018
Oh c'mon man, it's an individual's decision to watch. You can't go on preaching about where to reside or where not to. Did we say anything when you married at foreign land instead your motherland? You're 'NO' one to pass verdict.

— Atul Sharma (@AtulSharma0025) November 7, 2018
next