STUDENTS OUT IN PROTEST AFTER WORKER MASTURBATES AT GIRL, HOSTEL WARDEN ASKS HER TO CHANGE CLOTHES
Home >
News Shots >
Tamil Nadu
By

Behindwoods News Bureau

|

Nov 23, 2018 10:31 AM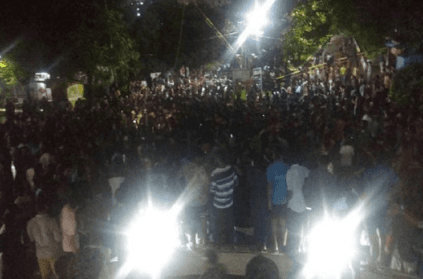 Hundreds of students of a private college in Chennai erupted in protest last night, after a female student alleged that a worker of the university masturbated in front of her. The student also alleged that the college authorities did not take any action on her complaint.

According to the protesting students, a second-year undergraduate student had taken the elevator to reach her room on the fourth floor of her hostel. To her shock, the sanitation worker, who was also inside the elevator, started masturbating while looking at her.

As she tried to stop the elevator and get out, the man blocked her path. But she screamed, fought him off and ran out, looking for help, a student told News18.

The university Vice Chancellor Sandeep Sancheti, however, denied the allegations of inaction and said the administration would look into the complaint. "Students are discussing with us. Whatever the matter is, it will be taken care of. If there is a matter, it will be inquired," he said.

According to another protester, the hostel warden, with whom the student had raised the issue, allegedly delayed access to the CCTV footage of the elevator and the registering of a complaint by over two hours.

"One of the first things that the warden told us was to change our clothes. She accused us of wearing short clothes implying that the girl deserved what she got," said another student.

They added that no complaint had been registered yet. Videos of agitated girl students inside campus and a picture of the accused titled 'He is the Culprit' are being circulated on WhatsApp groups
next