AFTER #METOO, #MENTOO MOVEMENT LAUNCHED TO 'EXPOSE' HARASSMENT BY WOMEN & FIGHT FALSE CHARGES
Home >
News Shots >
India
By

Behindwoods News Bureau

|

Oct 22, 2018 11:03 AM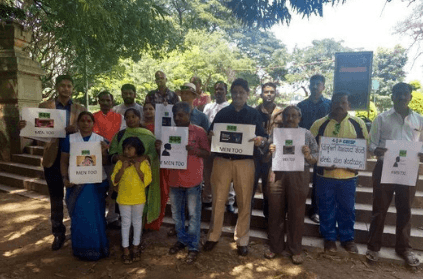 Over the last few weeks, the #MeToo movement has picked up pace in India with women from multiple walks of life coming out with their stories of sexual harassment. Now, on the line of the #MeToo movement, a group of 15 people have launched a #MenToo movement. The movement asks men to come out and speak openly about sexual harassment faced by them at the hands of women.

The campaign was launched in Bengaluru on Saturday by NGO Children's Rights Initiative For Shared Parenting (Crisp) to protest against the #MeToo movement and the false accusations against men.

Speaking on the occasion, National President of Crisp, Kumar V Jahgirdar said the group would fight for gender neutral laws and demand punishment for those filing false cases under #MeToo campaign. Jahgirdar said that while the #MeToo is a good movement, it should not be misused to fix somebody by levelling false accusations. "This movement has only resulted in bringing disrepute to men who have worked hard to earn respect in society," he said.

Speaking to reporters, Jahgirdar said that unlike #MeToo victims, who talk about sexual abuse stories that happened decades ago, the #MenToo stories would focus on recent occurrences. Hitting out at the #MeToo movement, he added that if the affected women have a genuine case of sexual abuse, they should take legal action instead of putting it up on social media.

He said #MenToo campaign was not at all a counter to #MeToo campaign, but to address the problems of men who do not speak up against women's atrocities.

"There is real pain among men. They are also suffering, but they are not coming out in the open against women and their misdemeanors," said Pascal Mazurier, a former French diplomat who was accused of sexually abusing his daughter. "We make laws to protect women. That is fine, but let us not forget half of humanity are men," he added.
*Image courtesy: The News Minute*
next