UNABLE TO FIND ACCESSIBLE TOILET IN MADRAS HC, DIFFERENTLY-ABLED MAN FORCED TO URINATE IN BOTTLE
Home >
News Shots >
Tamil Nadu
By

Behindwoods News Bureau

|

Sep 21, 2018 01:25 PM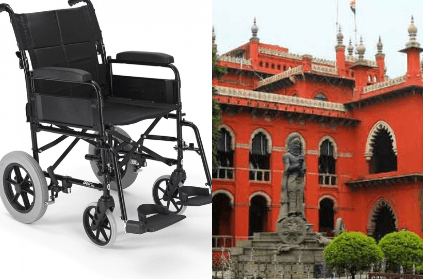 Vijayakumar M trembles at the very thought of visiting the Madras High Court, where the wheelchair-bound man is currently fighting a case. On Tuesday, he found himself in a rather embarrassing situation. Unable to find an accessible washroom, he was forced to urinate in a disposable bottle, using a handkerchief to cover himself.

When Vijayakumar rushed from the courtroom on the first floor to the washroom on ground floor, he found that his wheelchair could not fit into the doorway.

"I was not able to use the toilet. I had no other option but to use a disposable bottle. The toilet is not accessible to any person in a wheelchair. It will be good if the government makes the entire campus and toilets disabled-friendly," he said.

Vijayakumar is not the only one to face this crisis. Several others will disabilities have narrated their plight whenever they had to visit to court. "I starve the whole day whenever I go to court, as toilets are inaccessible. I travel back home and use the restroom," said Smitha Sadasivam of the Disability Rights Alliance.

V Devanathan, registrar (administration) of the Madras High Court issued a statement in this regard. "Toilets can't be provided on the first and second floors, as it is heritage building but we are working on a plan to provide the same without harming the building. People with disabilities can enter through any gate and there are ramps available for their movement," he said.

Other differently-abled citizens have claimed that it is not just limited to toilets. They claim that even if disabled-friendly toilets or ramps are available, there are no signages to guide people. Another activist, who uses crutches, claimed how the floor is slippery and how security people are insensitive.

"I use two kerchiefs under my crutches to avoid slipping while walking on the floor and imagine the time it takes to climb down and reach toilets on the ground floor," he told Times of India.

*Report: Times of India*
next