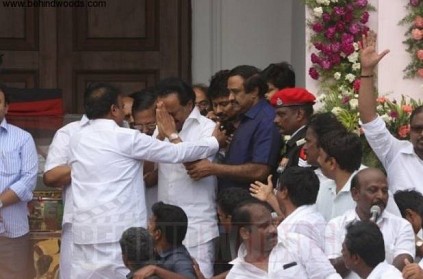 MK Stalin had requested CM Edappadi Palaniswami space for burial next to CN Annadurai's memorial at the Marina Beach for the five-time former CM Dr M Karunanidhi on Tuesday afternoon. However, his request was dismissed by the TN govt citing legal issues.
Irked at not being allotted place in Marina, DMK moved the court and requested for the hearing to take place on a high-priority basis. However, the case was adjourned and the hearing was scheduled at 8.30 am on Wednesday.
On Wednesday morning, TN govt filed its counter affidavit in the matter and stated that space has been allotted in Gandhi Mandapam and that the reason for not giving space in Marina is because of the central government's rules.
An intense argument reportedly ensued between the government's and DMK's counsel. Both the parties argued their respective points. After more than an hour, the hearing finally came to an end and the verdict was declared. The Madras HC ordered space to be allotted for Kalaignar so that he can be buried alongside his mentor, CN Annadurai.
Speaking after the victory, Minister Duraimurugan said, "Even after his death, Karunanidhi conducted a protest and won it." DMK cadres could be seen bursting with joy following the favourable verdict. Stalin was even spotted crying tears of joy after his father's victory.
next