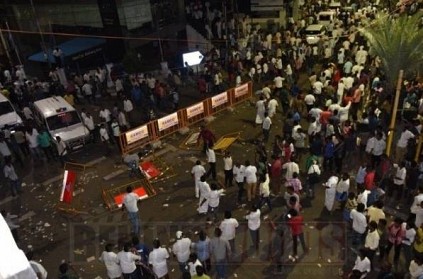 MK Stalin had requested CM Edappadi Palaniswami space for burial next to CN Annadurai's memorial at the Marina Beach on Tuesday afternoon. However, his request was dismissed by the TN govt citing legal issues.
Irked at not being allotted place in Marina, DMK moved the court and requested for the hearing to take place on a high-priority basis. However, the case was adjourned and the hearing was scheduled at 8.30 am on Wednesday.
On Wednesday morning, TN govt filed its counter affidavit in the matter and stated that space has been allotted in Gandhi Mandapam and that the reason for not giving space in Marina is because of the central government's rules.
An intense argument has reportedly ensued between the government's and DMK's counsel. DMK's senior counsel Veera Kathiravan rebutted to TN's counter affidavit and stated that the central govt protocol relied upon by the govt has nothing to do with burial grounds. Veera Kathiravan also contended that loved ones should be buried along with their mentor and only then can it be termed a decent burial.
Countering DMK's arguments, TN govt's counsel CS Vaidyanathan stated that DMK is pursuing a political agenda by filing this case. He also argued that everything was staged due to the withdrawal of the previously filed petitions. He said that Periyar was the tallest leader of the Dravidian movement and asked if he too was buried in Marina.
DMK lawyers were stirred over Vaidyanathan's arguments. A commotion ensued at the court. Reportedly, security has also been beefed up outside Anna Memorial in Marina as precaution.
The verdict is yet to be announced. Follow this space for more updates.
next