THIS DIFFERENTLY-ABLED TEACHER'S DEDICATION HAS WON HEARTS ON THE INTERNET
Home >
News Shots >
Inspiring
By

Behindwoods News Bureau

|

Sep 12, 2018 02:33 PM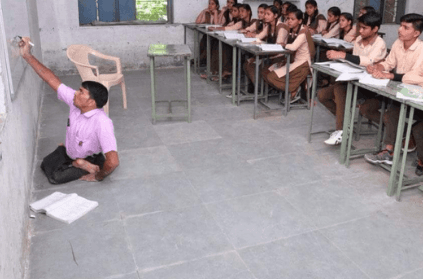 All teachers are an inspiration. Their unmatched dedication to impart knowledge continues to amaze many. Teachers often have to overcome many adversities to achieve their goal. Here's another teacher who has left the internet inspired.

Meet Sanjay Sen, a differently-abled teacher at a school in Rajasthan. While Sen is physically challenged, it didn't stop him from pursuing his goal and passion. Sen has been working in a government school in Rajasthan under the 'Shiksha Sambal Project' since 2009.

He is no ordinary teacher. Take a look at this photo shared by a Twitter user, and you'll understand what we mean
Meet Sanjay Sen, a physically challenged man, teaching at a village school in Rajasthan under the Shiksha Sambal Project since 2009...salute for his dedication.👏#Respect 🙏 pic.twitter.com/GuBU8wdjqJ

— Sanjib Ghosh🔥সঞ্জীব (@sampadscales) September 9, 2018
Despite being differently-abled, Sanjay manages to teach kids multiple subjects including Science, Math, and English. Sanjay can be seen teaching in a classroom without access to a wheelchair or crutches. The picture has now gone viral, with people pouring their hearts out to commend the man's dedication.

Here are some reactions on Twitter
I will not only salute his dedication but I will also salute his family Members, his friends and everybody who were with him when he needed them the most, who gave him hope, mental strength n confidence to fight all the odds of life n live life with full respect 🙏🏻🙏🏻

— Pinki Bhattacharya (@Pinki10B) September 9, 2018
Can any of our respected ministers take cognizance of this and provide some support/Electric wheelchair to this gentleman..@PrakashJavdekar @narendramodi @smritiirani @BJP4India

— Lady Nisha (@Lady_nishaaa) September 11, 2018
Real Hero !!!! Why TV's and Papers won't cover such heroes and their work ?????

— burrasarma (@burrasarma1) September 12, 2018
A big salute to this man,nothing can't stop our life physically challenge is just a little thing dream is big more than it,

— Susmita (@Susmita2819) September 11, 2018
Heartwarming story ! Such stories should be the headlines ...not the stone lynching stories which makes Indians self-loathing

— Sumit Sharma (@SumitSh51538840) September 9, 2018
Tags :
#SCHOOLSTUDENT #RAJASTHAN #TEACHER #SCHOOL #CLASSROOM #DIFFERENTLY-ABLED
next