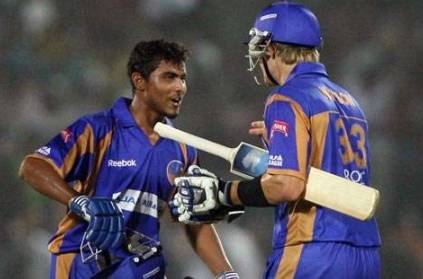 Shane Warne is a gift to the cricketing world. When Warne was the captain of Rajasthan Royals in the first edition of the Indian Premier League, he not only led the team spectacularly to victory but also shaped each and every player in the team.
In his new autobiography, 'No Spin', Warne recollects his days captaining Rajasthan Royals. Warne recalled a little incident with Ravindra Jadeja. Warne disciplined the then-upcoming bowler into maintaining punctuality.
He wrote, "We let a few things go but I cannot stand anyone who is late for anything. And Ravi Jadeja was always late. First time, there was a bit of confusion with bags and stuff, so I let it slide. Second time, no good -- the bus left at 9 am for training and he wasn't on it. So he had to make his own way to the ground and of course was late again.
"On the way back after training, I stopped the bus halfway to the hotel and said, 'guys, we had someone late again this morning. Ravi, mate, Get off here and walk home.' One of his mates made a fuss and I told him to get off too and told them to walk back together. No one was late after that."
Tags :
#CRICKET #RAVINDRAJADEJA #SHANEWARNE
next