POLITICIAN DETAINED AND 'MANHANDLED' BY TAMIL NADU POLICE
Home >
News Shots >
Tamil Nadu
By

Behindwoods News Bureau

|

Sep 08, 2018 06:30 PM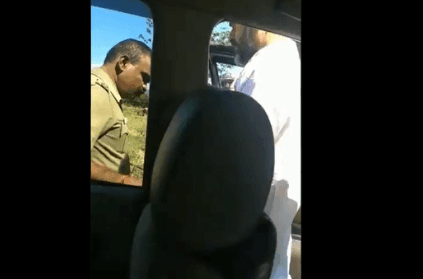 Yogendra Yadav, a psephologist-turned-politician, and founder of the Swaraj India party was detained and allegedly manhandled by Tamil Nadu police during his visit to Tiruvannamalai today.

Yadav and his party officials travelled to Tiruvannamalai to meet a group of farmers who were protesting against the proposed Rs.10,000 crore eight-lane Chennai-Salem highway. Taking to twitter, Yadav has accused the Tamil Nadu police of manhandling him when we has going to meet the farmers.
TN police has detained me and team in Chengam PS, Thiru Annamalai district. We came on the invitation of Movement Against 8Lane Way.
We were prevented from going to meet farmers, phones snatched, manhandled and pushed into police van.
First hand experience of police state in TN!

— Yogendra Yadav (@_YogendraYadav) September 8, 2018
The police, however, has denied these allegations, claiming that Yadav had not sought prior permission to meet the farmers. The cops believe that Yadav and his associates would have needed police protection as the situation could have turned volatile, given the sensitivity of the issue.

Yadav has also alleged that he was arrested after he spoke to a senior district official about complaints of land acquisition and police excesses.
I had spoken to Mr Kandasamy, Collector, Thiru Annamalai about acquisition and complains of police excesses for 8 lane way. He completely denied any police interference. Within minutes of the phone call police detained us. https://t.co/KYrA0oHJ26

— Yogendra Yadav (@_YogendraYadav) September 8, 2018
"We tried contacting the Tiruvannamalai district collector to explain the purpose of our visit. But police officials snatched out phones and dragged us to their vehicles. Police officials should be answerable for manhandling me and my party members," he said.
next