BATMAN PULLED OVER BY COPS. WHAT HAPPENED NEXT WILL PUT A SMILE ON YOUR FACE
Home >
News Shots >
World
By

Dwarak

|

Aug 27, 2018 04:23 PM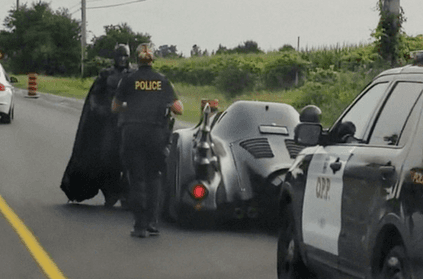 We've all seen cops chase down the Batman in the streets of Gotham City. But what would you do if you saw the same in real life?
According to a video that has been doing rounds on the internet, Batman was pulled over by the cops in Canada. The footage shows a female police official pulling over the iconic batmobile. As she walks towards the vehicle, the 'dark knight' makes a jaunty entrance, jumping out of the car in a comic way to talk to the officer.
The video has now gone viral on all social media platforms, with netizens wondering why the iconic superhero was pulled over. Turns out, it was not for breaking any law. The officer wanted to click a selfie with the 'Caped Crusader'
Reports suggest that Stephen Lawrence aka 'Brampton Bat' was driving back from a car show when he noticed enthusiasts tailing him and clicking pictures. Concerned by all the attention, he pulled up beside the officer at a traffic light to ask her for assistance.The officer escorted him for a short distance, before asking him to pull over to the side. "I jumped out of the car and asked if everything was okay. The officer said 'I would like to not miss my opportunity and get a photograph with you," Lawrence told Global News
The 'Brampton Bat' has been photographed with officials before, and he tours children's hospitals and comic-con events in the region.
What would you have done in this scenario? Tell us in the comments below
Tags :
#POLICE #BATMAN #CANADA #COMIC #SELFIE
next