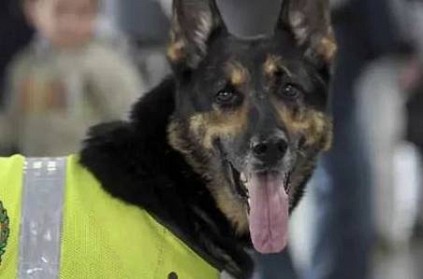 According to reports, a bounty of $7,000 has been placed on Sombra, a six-year-old German Shepherd working part of the anti-narcotics police squad in Bogota, Columbia. Sombra has reportedly helped recover millions of dollars in illegal drugs.
After the bounty was placed by a drug cartel named Clan de Golfo, Sombra's bosses decided to transfer her for her own protection. Police canine trainer Jeison Cardona reportedly said, "It's not only Sombra facing threats, many police dogs are threatened on a daily basis."
Sombra has landed many blows against Clan de Golfo. In 2016, Sombra had even sniffed out 2.9 tons of cocaine hidden inside a cart of bananas in Belgium. Enraged, the cartel had offered the police $7,000 for handing over the dog to them.
In her five-year career, Sombra has reportedly tracked down nine tons of narcotics. Sombra, meaning shadow, now sniffs out cargo at the airport and goes back to her kennel during the night.
next