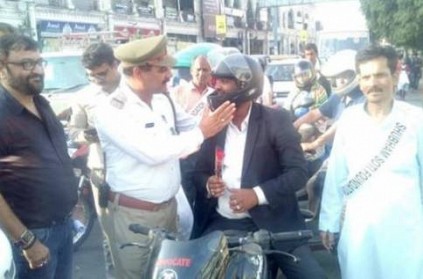 It's hard to convince bikers to wear helmets, thus leading the police to come up with innovative ways to make them follow the rules. In a recent incident in Lucknow, one such innovative method to promote helmets turned quite nasty for a man.
The Lucknow police were distributing roses to diligent and rule-adhering riders. However, one such man who was given a rose for wearing a helmet went through hell from his wife. His wife refused to believe that the rose was given by the police and suspected it to be from another woman.
The man reportedly had to go back to the police the next day for proof to show to his wife. He asked for a photo that was taken of him with the police and requested for a new one as well. The hilarious incident was shared on social media by traffic sub-inspector Prem Sahi.
Sahi had written in his post, "He was very upset about the photo. When we enquired about the reason he said, 'When I was going through the Sikandar Bagh intersection yesterday, Inspector sir, you gave me a rose for wearing a helmet. When I reached home with the rose, my wife started questioning me about the rose. I repeatedly told her that the traffic police were giving out roses to those wearing helmets, but she refused to believe that the police would give out flowers, and we were fighting the entire night. My entire night was black.'"
next