THE STORY OF THE LIFELINE EXPRESS, A 'HOSPITAL ON WHEELS'; 5 FACTS YOU NEED TO KNOW
Home >
News Shots >
Inspiring
By

Behindwoods News Bureau

|

Oct 29, 2018 12:55 PM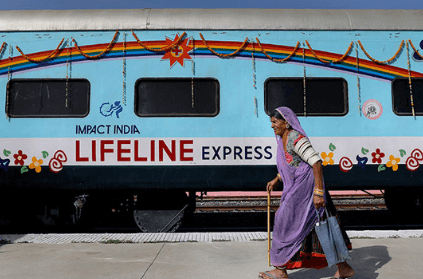 The Lifeline Express, also called the Jeevan Rekha Express is a seven-coach train which was started with the aim of providing medical care to those people living in areas with poor access to healthcare facilities.

The idea was initially proposed to the Indian Railways by a Mumbai-based NGO called Impact India Foundation. The train goes to different locations and rural areas and collected all the necessary data for medication. The team then collaborated with the local primary health centres to prepare of list of people who require surgeries.
Here are five facts you need to know about the train:

1. The train stops at different stations to examine people. At every stop, local villagers and NGOs offer assistance, from food and laundry services to crowd control to find accommodation for post-operative patients and family members who accompany them.

2. The Lifeline Express (sponsored by public and private organisations) has treated over 1 million people in rural India, free of charge, since its inception in 1991. Nearly 2 lakh medical practitioners from across the world have provided their services to fill the gap in rural healthcare sector.

3. The train's A/C coaches house state-of-the-art operation theatres, a pathology lab, a mammography unit, a gynecology examination room, a dental unit, an x-ray unit, pharmacy, consultation cubicles, patient wards, onboard power generators, a well-equipped pantry and lodging for medical staff. The train also has WiFi, which helps doctors and experts in metropolitan cities to examine patient's reports.

4. In 2016, the train also got two new coaches, donated by the Indian Railways, for additional services in cancer detection and family planning. While they started off with providing treatment for cataract, cleft lips and Polio, over time, the train has begun providing plastic surgeries, dental surgeries, curative services to people suffering from disabilities, and so on and so forth.

5. The Lifeline Express has had a major impact on the rest of the world, such that other countries have replicated this idea. China now has four such trains and South Africa has two while Bangladesh and Cambodia each have a riverboat hospital.
next