'WORLD'S HEAVIEST OVARIAN CANCER TUMOUR' REMOVED BY DOCTORS IN COIMBATORE
Home >
News Shots >
Tamil Nadu
By

Behindwoods News Bureau

|

Oct 12, 2018 05:30 PM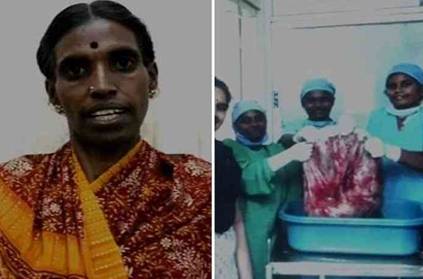 Doctors in a Coimbatore hospital have removed what could be called the 'world's heaviest ovarian cancer tumour' from a 46-year-old woman. Hospital authorities said that the tumour weighed 33.5kg, which is equivalent to 11 full-term babies born at an average weight of 3kg each.

Due to the massive tumour in her abdomen, and the resulting weight gain, the woman was struggling to breathe and even sit in a place for a few minutes. "The tumour had reportedly been growing for the past two years slowly but the woman kept ignoring it as a case of weight gain due to old age," said the operating surgeon Dr Sendhil Kumar.

Local doctors in Ooty refused to operate the woman, saying that he chances of survival were slim. An encounter with a co-passenger at the Ooty bus stand led the woman and her husband to the hospital in Coimbatore.

The woman was immediately treated and taken for surgery. After a three and a half hour surgery, the massive tumour was finally removed. After the surgery, the woman's weight dropped from 75kg to 42.2kg.

The hospital's surgery has entered the Asian Book of Records. The entry into Guinness World Records has been submitted, but not yet confirmed.

*Report: Times of India*
Tags :
#HOSPITAL #COIMBATORE #ASIAN BOOK OF RECORDS #GUINNESS WORLD RECORD
next