'MIRACLE' BABY WITH FOUR LEGS & TWO PENISES LEAVES DOCTORS BAFFLED
Home >
News Shots >
India
By

Behindwoods News Bureau

|

Sep 19, 2018 11:26 AM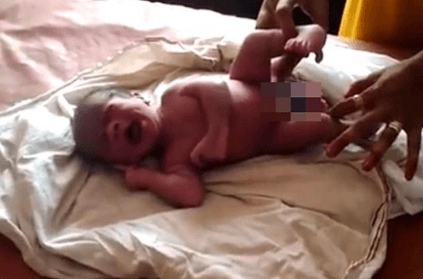 A baby born with four legs and two sets of genitals has left people astounded. People living around miles came in to witness what they call a 'miracle of god'. The baby was born in Gorakhpur, Uttar Pradesh, to a daily wage labourer , Bulhan Nishad and mother Rambha.

Doctors believe that the baby's rare condition is due to a parasitic twin, in which part of a conjoined twin which never fully developed remains attached to the body of the baby. The condition is very uncommon and might require surgery to remove the extra pair of limbs and genitals.

In a video that is now doing rounds online, local people can be seen jaw struck as they gather around the crying baby. The doctors too were equally baffled, and said that the baby will have to be taken to a bigger hospital for treatment.

Locals who were fascinated by the baby, labeled the boy as a 'miracle of god'. Experts believe that the condition is extremely rare and would require surgery to remove to extra growths.
next