INDIA'S FIRST ENGINE-LESS TRAIN TO HIT THE TRACKS ON OCTOBER 29; HERE'S ALL YOU NEED TO KNOW
Home >
News Shots >
India
By

Behindwoods News Bureau

|

Oct 25, 2018 10:35 AM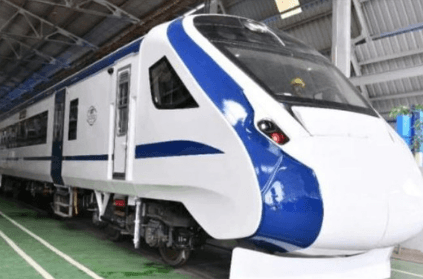 The Indian Railways has been on a major overhaul over the past couple of years. From cleaner trains, better food and facilities, we have now come to the era of engine-less trains.

In a major boost of the railway sector in the country, the first 'Made in India' engine-less train is all set to hit the tracks for trial on October 29. Named Train 18 or T18, the train is a major leap for the railways, in terms of technological innovation.

The T18 is capable of reaching speeds of up to 160 kmph, and it also comes with technical features for enhanced quick acceleration. The 16-coach prototype that comes without the locomotive (engine) will cut travel time by 15% when compared to the Shatabdi Express.

Developed by Chennai-based Integral Coach Factory, the AC train is designed in a manner that passengers can clearly see the driver's cabin. The estimated cost of each T18 vehicle is Rs. 100 crore.

The train will hit the tracks on October 29, and trail runs will be conducted for 3-4 days. The self-propelled train, fitted with CCTV cameras, will have 2 executive compartments in the middle with 52 seats. On the other hand, the trailer coaches with have 78 seats each.

Though the maximum speed of Train 18 is 160 kmph against 130 kmph of Shatabdi, the issue could be the suitability of the existing tracks. The tracks are being improved and once the tracks are fit to suit Train 18's speed, it would reduce travel time by around 15 per cent compared to Shatabdi.

Train 18 has diffused lighting, automatic doors and footsteps beside GPS-based Passenger Information System.
next