With Congress' upcoming 'Jan Aakansha rally' scheduled for February 3, posters have been flooding Patna. One such poster of Rahul Gandhi's has now become the talk of the town.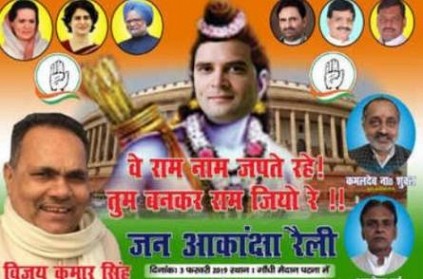 The poster put up by Vijay Kumar Singh (67) features Rahul Gandhi as Lord Ram. Singh reportedly said, "Rahul Ji has all the qualities of Lord Ram and not Prime Minister Narendra Modi who is only doing politics in the name of Lord Ram."
The poster was met with backlash from the BJP. The party's spokesperson Sambit Patra tweeted a picture of the poster and wrote, "This is the Congress's poster in Patna. The sole motive of the Congressmen – sycophancy is the supreme conduct. First, refute the existence of Ram then dress Rahul like Shri Ram… Good that (you) became Shri Ram…Now tell this Congresspeople… What is your stand on the petition of the central government submitted before the Supreme Court today?"
Patra's question refers to the Centre's petition to the Supreme Court to hand over the excess land around the disputed Ram Janambhoomi-Babri Masjid site to its original owners. Responding to the question, Singh reportedly told, "We will wait for the Supreme Court's verdict and take an appropriate stand."
next