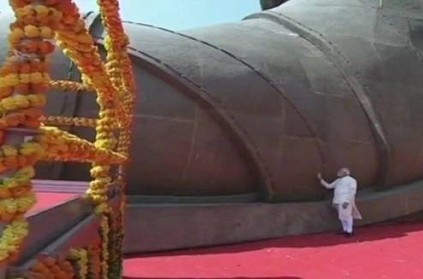 Congress leader Divya Spandana took a jab at Prime Minister Narendra Modi today on Twitter and ended up facing a heavy backlash from not just BJP but her own party as well.
Spandana tweeted a photo of Modi next to the humongous Statue of Unity and wrote, "Is that bird dropping?" BJP furiously condemned her comments and retweeted it with the comment, "Ummm no, it is the values of the Congress that are dropping."
This is the second time Spandana has come under the radar for targetting Modi. The police had earlier filed a sedition case against her after she tweeted an edited photo with the word 'chor' (thief) on Modi's statue.
Reportedly, it is not just BJP that is unhappy with Spandana's tweets. According to Congress sources, even the party president is not happy with Divya Spandana for targetting Modi.
Ummm no, it is the values of the Congress that are dropping.

Historical disdain for Sardar Patel + Pathological dislike for @narendramodi = Such language.

Clearly, @RahulGandhi's politics of 'love'! https://t.co/1TPCY7Fs4d

— BJP (@BJP4India) November 1, 2018
next