STATUE OF UNITY: DOUBLE THE HEIGHT OF STATUE OF LIBERTY; HERE ARE 10 INTERESTING FACTS YOU SHOULD KNOW
Home >
News Shots >
India
By

Behindwoods News Bureau

|

Oct 31, 2018 10:05 AM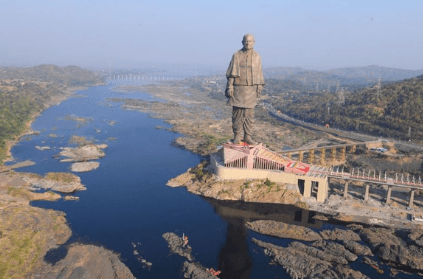 Prime Minister Narendra Modi will unveil the world's tallest statue, the 'Statue of Unity' in just a short while from now. Built at a towering height of 182 metre, the statue is being unveiled to commemorate Sardar Vallabhai Patel's 143rd birth anniversary. Here are 10 interesting facts about the statue

1. Built at a cost of Rs 1989 crore, close to 1,40,000 cubit metres of concrete was used to construct it. Supporting the structure are 18,500 tonnes of reinforced steel rods. The statue is covered with 2,000 tonnes of bronze sheets.

2. First announced in 2010 by the then chief minister of Gujarat, and now Prime Minister Narendra Modi, the statue's foundation stone was laid in 2013.

3. The 'Statue of Unity' has been built to withstand wind speeds of up to 180 km and an earthquake of up to magnitude 6.5 on the Richter scale.

4. The monument has been designed by Noida-based Padma Bhushan awardee sculptor Ram V. Sutar, who has designed over 50 monuments in his 40 year old career. He is said to have taken special care to ensure that the statue's face resembles Patel's facial features by going through 2,000 photographs of the leader.

5. The 'Statue of Unity' is twice as tall as the Statue of Liberty in US. Patel's statue now takes the top spot in the list of world's tallest statues, taking the top spot from the 128 meter tall Buddha statue built in Spring Temple, China.

6. The statue of Unity has two high-speed passenger elevators in its core which will take tourists up to the chest of the statue to a viewing gallery, which can accommodate about 200 tourists at a time.

7. It towers over the nearby Narmada Dam, in the Shoolpaneshwar wildlife sanctuary, and will be connected by bridge to a museum and audio-visual gallery, three-star hotel and garden in Patel's honour. There will also be a "laser, light and sound show on the efforts of Unification of India".

8. Nearly 3,400 workers and 250 engineers have been working on this statue for the past four years. It has been completed in a record 33 months.

9. For the inauguration of the statue the Gujarat government has invited dance troupes from across the country. Air Force planes and helicopters are expected to shower flowers on the statue during unveiling.

10. Village headmen of 22 villages located near the statue have decided to boycott the unveiling ceremony and not to welcome Prime Minister Modi alleging mass destruction of natural resources in the making of the statue.
Tags :
#NARENDRAMODI #STATUE OF UNITY #SARDAR VALLABHAI PATEL #IRON MAN
next