DMK CHIEF MK STALIN BACKS RAHUL GANDHI AS PM CANDIDATE FOR 2019; OPPOSITION LEADERS DISAGREE
Home >
News Shots >
India
By

Behindwoods News Bureau

|

Dec 17, 2018 09:57 AM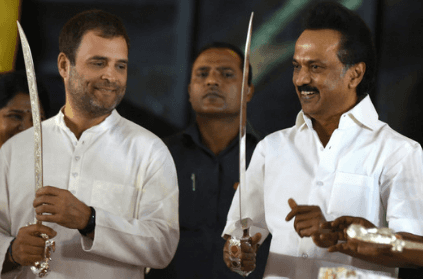 It was a considerable show of Opposition unity yesterday at the DMK headquarters in Chennai. Congress President Rahul Gandhi, Sonia Gandhi, Kerala CM Pinarayi Vijayan, Andhra CM Chandrababu Naidu and others were present at the statue unveiling of former DMK patriarch Karunanidhi.

In the biggest endorsement for Rahul Gandhi yet, DMK chief MK Stalin proposed that the united Opposition must field the Congress chief as its prime ministerial candidate to defeat the 'fascist' Narendra Modi government.

Speaking at the event, Stalin said, "In the five years of PM Modi's rule, the country has gone back by 15 years. If we give another chance to him, surely the country will go 50 years back. PM Modi is behaving like a king, that's why we've all come together to safeguard democracy and country."

"I propose we install a new Prime Minister in Delhi. I propose the candidature of Rahul Gandhi from Tamil Nadu. He has got the ability to defeat the fascist Modi government," he added.

However, Stalin's remarks did not resound well with other Opposition leaders. According to a News18 report, quoting sources, the Telugu Desam Party (TDP) and the Trinamool Congress (TMC) were upset with the DMK leader's premature announcement of a prime ministerial face. Leaders in the two parties were of the opinion that Stalin should have waited till after the Lok Sabha elections.

"A number of opposition leaders are understood to have reservations against naming anyone as the prime ministerial face. The SP, TDP, BSP, TMC, and NCP disagree with Stalin's announcement. It is premature. The PM name is to be decided only after the Lok Sabha results," a top opposition leader said.
next