AFTER 'STATUE OF UNITY', INDIA TO GET WORLD'S TALLEST STATUE OF LORD SHIVA IN THIS STATE
Home >
News Shots >
India
By

Behindwoods News Bureau

|

Nov 19, 2018 06:17 PM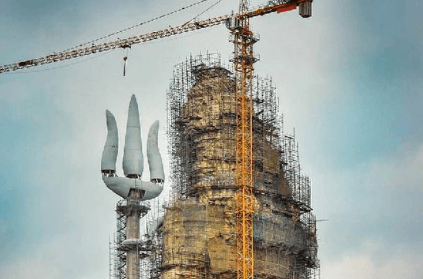 India's statue craze is far from over. First it was Sardar Vallabhbhai Patel's 'Statue of Unity'. Then we had reports of the Karnataka government planning to build a statue of Mother Cauvery on the Cauvery river. Now, India is all set to get another record-breaking statue - this time of Lord Shiva.

The construction of the massive Shiva Murti, to be built at a height if 351 feet, will be completed by 2019 at Nathdwara in Rajasthan.

According to Times Now, quoting certain reports, nearly 85% of the work on the huge statue has been completed so far, and the statue is likely to be inaugurated by March 2019.

Being constructed at Ganesh Tekri in Nathdwara, 50 kms away from Udaipur, the Shiva Murti is expected to be the fourth tallest statue in the world, after Statue of Unity, Spring Temple Buddha and Laykyun Setkyar and the tallest statue of the Hindu deity.

Rajesh Mehta, who is in-charge of the project, told news agency 'Bhasha' that the statue is made of concrete and cement and that it was being built by 'Miraj Group'. Nearly 750 workers have been working on this project since the last four years. The foundation stone for the Murti was laid in August 2012 by the then chief minister of the state, Ashok Gehlot, and spiritual leader, Murari Bapu.
World's Tallest Shiv Murti, Oden, Nathdwara
World's tallest Lord shiva statue (351 ft) under construction at Nathdwara, Rajasthan by Miraj Group.
(via Instagram: Yashu_Sharma_Photography) pic.twitter.com/7QgVJg6hIa

— Tyrantasorus (@tyrantasorus) November 2, 2018
Mahadev❤
World's largest(351ft.) Shiva Statue under construction in Rajsamand at Nathdwara

Rangeelo Rajasthan😍

To know more about Rajasthan's culture and history, Click on the link given Below :https://t.co/YfuoSVPlr8#Rajasthan #mahadev #RangeeloRajasthan #IncredibleIndia pic.twitter.com/XfYEgGBRuc

— Oh My Rajasthan! (@OhMyRajasthan) August 18, 2018
The statue of the Hindu god is likely to be so tall that it will be visible from Kankroli flyover, which is around 20kms away. Reports said that the statue was being constructed in the region as a tourist attraction
Tags :
#TWITTER #LORD SHIVA #STATUE OF UNITY #RAJASTHAN
next