WATCH | 6-FOOT-LONG COBRA ENTERS BMW; TN BUSINESSMEN GET LUXURY CAR DISMANTLED TO REMOVE IT
Home >
News Shots >
Tamil Nadu
By

Behindwoods News Bureau

|

Nov 12, 2018 08:38 AM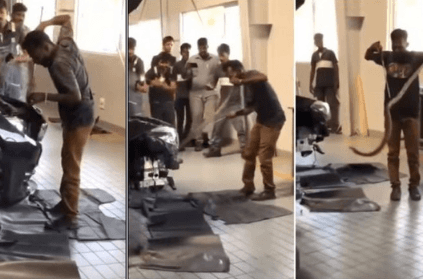 A video going viral on social media shows a six-foot-long cobra gliding out of a luxury BMW car. Two businessmen from Tiruppur were driving to Madurai on Thursday when a snake entered their BMW 3 Series 320d GT. They called the firemen who searched the car but couldn't find anything.

The men then called a BMW service centre and were told that it is so safe that "not even an ant could enter." However, the snake decided to make an appearance, soon after they started driving again. And this time, the men decided to take the car to the BMW service centre instead of taking any risks.

At the service centre, the staff decided to call in a professional snake handler for the job. The News Minute (TNM) has accessed visuals of the snake rescue, that show a blue BMW car with its front tyres removed, its hood up, and its front bumper pulled apart.

In the clip, the man can be seen holding the snake's tail in his left hand. He tries hard to bring the snake out which is stuck under the bumper and in the process has to dismantle a little to bring it out of its hiding. With a little help, he pulls out the snake which falls to the floor. Sanjai, the conservationist can be seen handling the snake with care and calming it.

"The employees hit the snake. So its bones were broken and it went inside the bumper because it was in pain. So they pumped air into it. The snake started hissing. This confirmed that the snake was there. So the frontage of the car was removed. Then the cobra raised its hood and stood on the bumper. We safely removed it and released it into the wild after informing the authorities, since it is venomous," the snake handler told TNM.
Tags :
#TWITTER #COBRA #BMW #VIRAL VIDEO #TRENDING
next