MAN PROPOSES TO GIRLFRIEND WHILE SHE WAS RUNNING A MARATHON; DRAWS FLAK ON SOCIAL MEDIA
Home >
News Shots >
World
By

Behindwoods News Bureau

|

Nov 12, 2018 10:07 AM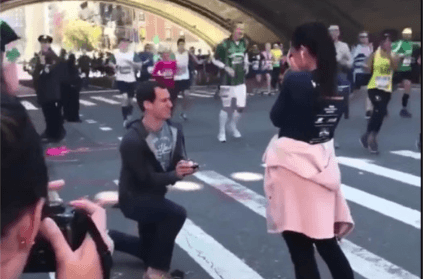 'All is fair in love and war'. But apparently this time it was not. A man recently drew flak on social media for the way he proposed to his girlfriend in the middle of the New York City Marathon.

Kaitlyn Curran was running the marathon and was at mile 16 when her long-term boyfriend Dennis Galvin skipped the barrier and plopped down to his knee with a ring to propose. While Kaitlyn did say yes, many on the internet were not happy at all with what happened.

After saying yes, she started running again, but people questioned why he couldn't wait to propose to her at the finish line.
SHE SAID YES: A woman who was running in Sunday's New York City Marathon was at mile 16 when her longtime boyfriend hopped over the barrier and dropped to one knee. She ended the day with a medal around her neck and a ring on her finger. https://t.co/8xbZ6P24RM pic.twitter.com/YizdEJYOhc

— CBS Evening News (@CBSEveningNews) November 5, 2018
Not everyone was that pleased with what Galvin did. While some slammed him for "making it about him", others thought the timing couldn't have been worse. Twitterati came down heavily on Galvin for interrupting Curran's marathon run in order to make a grand proposal with many calling Galvin a misogynist.
He couldn't propose to her at the finish line?

— BLOOP! (@susiemcdonnell) November 5, 2018
If he really loved her, he would've waited until after the race, given her a massage, taken her to a nice dinner, left her alone all night so she could have a nice long rest, woke her up the next morning with homemade waffles and strawberries, then asked her to marry him. Geez.

— Grateful (@canwejustbecool) November 6, 2018
*Raises hand. His male ego was too small to let her get all of the attention for even a few hours

— Mike (@12MBerry) November 6, 2018
Premium misogyny. https://t.co/9WxgzWMcQC

— kamo (@kamoelevated) November 8, 2018
Tags :
#TWITTER #MARATHON #PROPOSE #MISOGYNY #BUZZ #VIRAL #TRENDING
next