95-YEAR-OLD COMES BACK TO LIFE DURING HIS LAST RITES; FAMILY CALLS IT A 'MIRACLE'
Home >
News Shots >
India
By

Behindwoods News Bureau

|

Nov 11, 2018 07:54 PM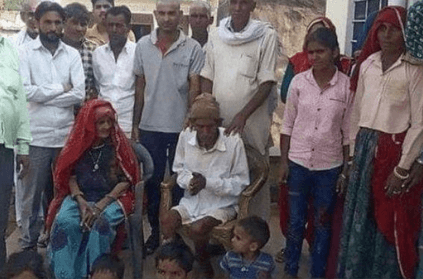 A family in Rajasthan is in shock after a 95-year-old man woke up at his own funeral. When the man in question was taken to a hospital, doctors told family that Budh Ram was dead.

After being declared dead, his last rites were to be performed, and the family called a priest to their house to do the deeds. But as soon as the man's elder son started pouring water on the body as part of the customary bath before cremation, Ram's body started shivering.

"The priest had started the rituals and a barber had shaved the heads of the men in the family. We were about to bathe the body as a customary practice before the funeral procession" the man's elder son said, as per a report in Times of India.

The man was immediately taken on the bed and to everyone's surprise he breathed back to life. The man then told the relatives that he had pain in the chest so he decided to sleep.

"He started breathing and sat on the bed soon after. When questioned by relatives, he said he had suffered chest pain and slept. It is nothing but a miracle," the elder son added.
*Image courtesy: India Times*
Tags :
#HOSPITAL #LAST RITES #FUNERAL #MIRACLE #RAJASTHAN
next