EVER WONDERED WHERE THE BIG 'MAN OF THE MATCH' CHEQUE ENDS UP? CLICK HERE TO KNOW
Home >
News Shots >
Sports
By

Behindwoods News Bureau

|

Nov 11, 2018 06:54 PM
One of the most regular sights in a cricket match is the 'Man of the Match' award. And a major part of the award is the big (literally) fat cheque . While we all know that the player doesn't take the giant size cheque replica to a bank to encash it, ever wondered where does it go?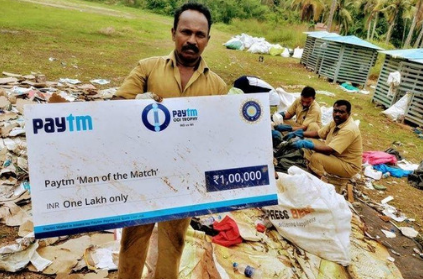 Apparently, it goes straight to the garbage dump!

An image posted on Facebook by a Kerala-based NGO shows the cheque awarded to Ravindra Jadeja for his match winning performance against West Indies in the fourth ODI. The Rs 1 Lakh cheque was found in a garbage dump by Jayan, a sanitary worker with Trivandrum Corporation.
"The authorities should find a different way of honouring the man of the match awardee, and such show off cards which becomes a liability for our environment, should be totally avoided. The BCCI and the players should be more responsible towards environmental protection," read one of the comments on the post which urged the BCCI to avoid this practice.

We hope the BCCI looks in to the matter and will take measures to come up with alternate way to honour the cricketers in the post-match presentation ceremony and help the environment.
next